Lalibela is a small, traditional village in the mountainous northern region of Ethiopia, about 700 kms north of the main city of Addis Ababa. The village is a sacred place of devotion for Ethiopian Christians and is known world-wide for its beautiful, mysterious churches carved out of the region's red volcanic rock. Dating back to the 12th and 13th centuries and arguably one of the 8th wonders of the world, the masterful engineers, architects and builders of the churches of Lalibela are unknown and will forever remain lost to history.

Visiting Lalibela is like landing in a scene in the Old Testament: donkeys laden with goods brought from the surrounding countryside move through the streets among the priests and monks, who are responsible for sustaining and protecting the churches. Some of the most delicious food in Ethiopia comes from this tiny, historical village and we have brought it here to you, at Lalibela Restaurant. All of our spices are lovingly hand dried, roasted, ground and mixed in our home village in Ethiopia and then shipped fresh to here, to our Lalibela in Toronto. So have a glass of Tej and relax and enjoy!
---
We serve the best Ethiopian food
Proud to show an authentic cuisine
Fast and nice service
Ethiopian/Canadian dishes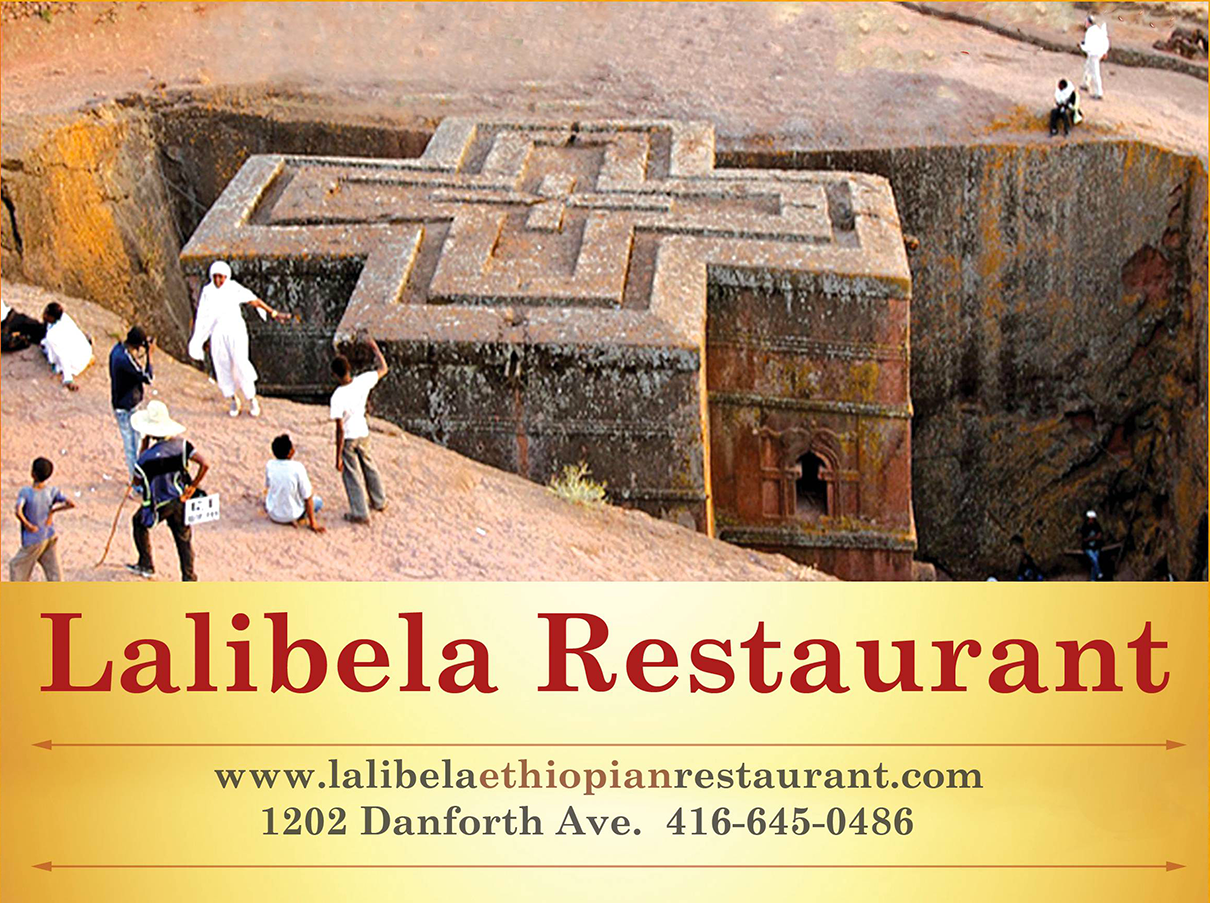 Serving Ethiopian coffee with traditional ceremony...
...Which includes roasting coffee beans on the spot bringing heavenly aroma to enjoy and entertain you Ethiopian style, making your visit an unforgettable event.

Come to Lalibela Restaurant and Discover the Best of Ethiopia in the Great City of Toronto!
---
Business Hours
We are open for business 7 days a week.
Including Public Holidays, Every day from 10:00am to 1:00am.
Well-located
We proudly serve this typical cuisine in Toronto !
Fresh and authentic !
Best Ethiopian Cuisine in Toronto !
We serve exotic Ethiopian cuisine with authenic decor !
Payment methods
We accept Cash, Visa, Mastercard and Debit